My father died when I was 25. His c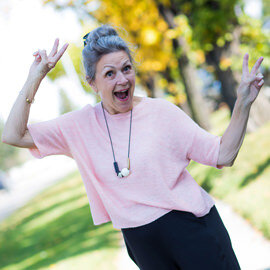 omplaints of chest pains were dismissed by hospital doctors as indigestion. One night he complained of pain and they decided to keep him overnight for observation. That was the night he died. When I went to the hospital to retrieve his things, they handed me a brown paper bag. That was all.
That was my father. As I left the hospital I wondered. Did he have dreams? Was he happy with himself and his life? I didn't think so and I was angry. I thought to myself, "It was just a waste of a life," and I vowed that when I got older it wasn't going to happen to me.
Since then I have embraced who I am by being open to exploring my interests and embracing the challenges and opportunities life has thrown my way. At 60 I earned a Master's Degree, and I learned tai-chi while becoming certified to teach. At 63, I joined the Peace Corp and spent two years in Ukraine teaching at a university. In my early 70s I spent three years living in Mexico. Today my home is a lightweight trailer that I tow around the country with my Outback . . . and I have never been happier with myself or my life.
Welcome to my journey, let me show you how you can join in your own way, at your own time.